Stay tuned for more information in the coming weeks!
Our theme for 2023 was "Assemble in the Forest"
Forest of Imagination is free to all. 
'Assemble in the Forest'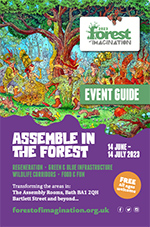 was an invitation to come together at a festival full of adventure, to enjoy culture, to celebrate beauty and biodiversity and to showcase the imagination of our community. As the world struggles with a climate emergency, COVID aftermath, injustice – this is the time to collectively and creatively imagine how things can be different.
The spectacular Bath Assembly Rooms was the venue for the 2023 Forest of Imagination where we celebrated 10 years as a contemporary arts event in Bath. For 2023, the National Trust invited Forest of Imagination to the Bath Assembly Rooms while the charity uncovers the history of the building, tests and finalises plans for the future and undertakes building work ahead of opening a Georgian experience in 2026.